Taste experience in Baroque style
Our Baroque restaurant consists of 5 different rooms with a total capacity of 530 people. Our dishes include not only traditional Hungarian meals but you can also try international cuisine. Upon request, we also provide assistance to our customers following a special diet. We will not miss out on the little ones either, as we give extra care for their meals. For them we provide special children's menu with the most refresh ingredients.
Apart from the non-alcoholic drinks, our restaurant puts special emphasis on getting our guests to know the wines of the region. After all, we are all aware of the excellence of the local wines.
Opening hours of the restaurant
Monday– Sunday
Breakfast
07:00-10:00
Lunch
12:00-15:00
Dinner
18:00-21:00
Introduction of the different halls of our restaurant
Yellow hall
Its yellow walls, six baroque pillars that give the hall its distinctive features, and its high ceilings give it a true Baroque style. Here you will find the central island-style buffet of our restaurant. This hall can seat 80 people. The room is air-conditioned. It can be arranged with U-shape set up and with tables for 4 to 6 people.
The central location of the hall provides access to all the other halls and the Coffee Salon. It is an excellent venue for events and receptions.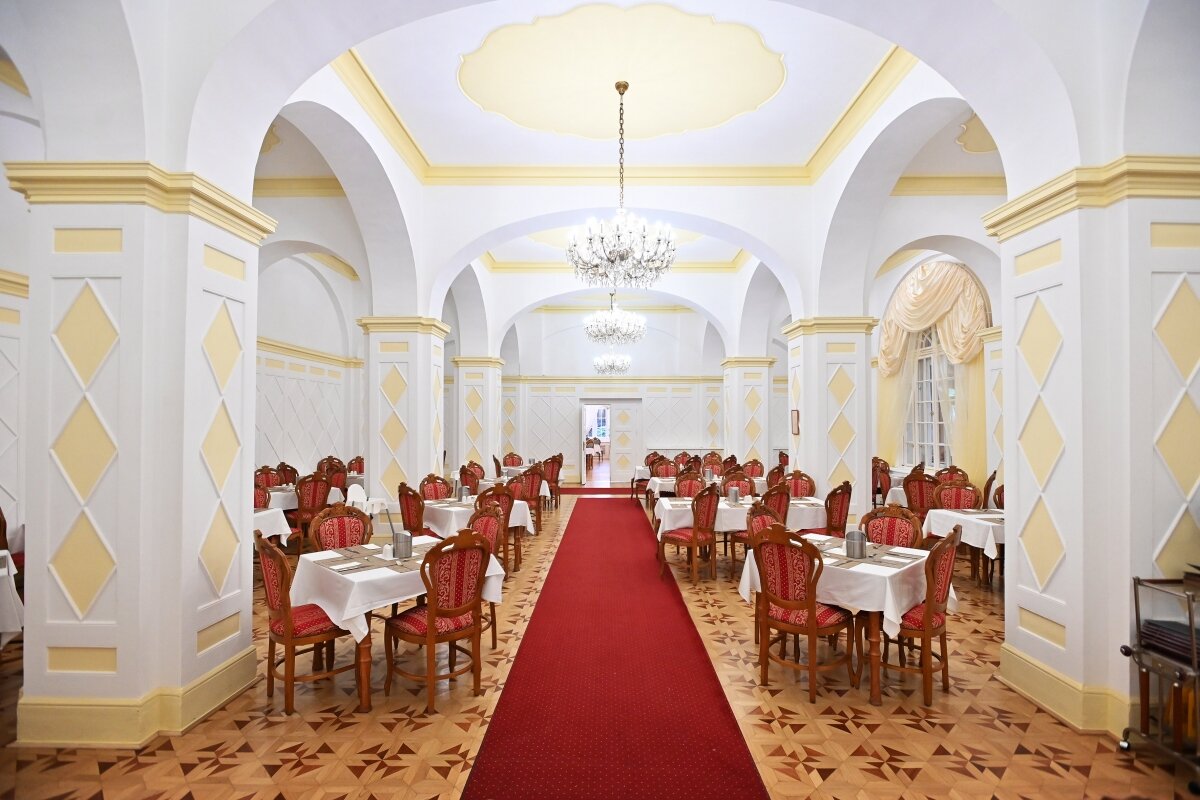 White hall
This exclusive room is the gem of the hotel. Due to the unique atmosphere, it is ideal for organizing special events, special dinners and gatherings. The pillar in the middle adds another pleasant ambience to its white walls and curtains. Its entrance opens from the Café but is also connected to the Yellow Hall.
In summer, you have a wonderful view over the Chestnut terrace. The room is air-conditioned, although the "old" walls still provide a comfortable temperature. It can hold up to 70 people. It can be arranged with U-shape set up and with tables for 4 to 6 people.
Green hall
Unlike other halls, it has a green tile and not parquet floor, and because of this, it can serve as a venue for smaller conferences. It can also perform the function of a dance hall in case of events with live music or parties. It overlooks onto the courtyard, so most of the time this room is used by our guests with wheelchair. There is no column in this room, which allows us to even arrange a table layout. It can hold up to 120 people at events with theatre seating and can seat 80 at dinners.
You can reach it from the Yellow hall and from the covered terrace, as well as from the courtyard.
Winter garden
In summer, thanks to its large sliding windows, we can admire the almost 100-year-old chestnut trees of the Chestnut Terrace with a pleasant climate. The wooden roof structure reflects a unique atmosphere both in winter and in summer. The flowers inside give it a real winter garden atmosphere.
Due to the L-shape, it is possible to accommodate a maximum of 20 people on the smaller wing.